QT Rpg Sprites
April 24th, 2015, 2:53 pm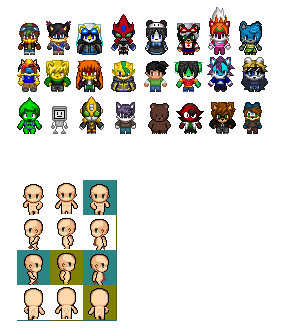 Average Rating: None
Creator's Comments
Bringer_of_light
,
April 24th, 2015, 2:53 pm
Reply
So I've been jobless and bored the last week or so, So i've started working on an RPG which I will inevitably give up on. BUT ANYWAYS, RPG SPRITEs?!

i've been making these using the base above, qt as shit. If anyone wants their characters to be in this, sprite it in rpg style and lemme know. (Some of these were made by different authors, such as Shard and Elda142)
Advertisement
,
October 23rd, 2019, 11:54 am
Reply
Viewer's Thoughts
Frost The Wolf
,
April 24th, 2015, 3:33 pm
Reply
Can you try to do Frost?
Snurple-the-Hedgehog
,
April 24th, 2015, 5:19 pm
Reply
@Frost The Wolf: Bruh, he said sprite it and let him know.

Speaking of which Neroe, check with me. I just finished it.
Syogren
,
April 25th, 2015, 10:47 pm
Reply
I would say "Use Muddy" But I honestly need to get into more multi-author stuff so that people actually know what he's like so eh.

Note to self don't comment on pages while drugged with sleep meds, everything you type will be incoherent mumbo jumbo